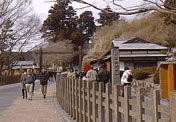 The guide-interpreter's business is to guide foreign visitors in various districts in Japan explaining its culture and tradition and the life style of its people in a foreign language. Some of you might say " I know what an interpreter does but I wonder what a guide-interpreter does." The word interpreter for 'guide-interpreter' might make you confuse it with 'interpreter'. There is, however, a big difference between those two. The interpreter's job to interpret spoken words faithfully is passive, sort of, while a guide-interpreter has to find words of his or her own and speak them out .

As a matter of fact, guiding at sightseeing spots is not the only job of a guide-interpreter. Such affairs as tour itinerary management, confirmation of reservation for accommodations, baggage control and advice for shopping also occupy very much part of his job. There are many unexpected happenings in traveling such as traffic jam, lost children, lost property, sickness and what not. The ability to stay unruffled on any occasion and to cope with any kind of happening so that it doesn't go out of control is necessary for this job.

Dig, dig, shoulder, shoulder, push, push, back, back, open, one, two, three: Could you guess what this phrase means? It is in fact the English presentation of the choreography of a famous folk song entitled "Tankobushi" or "Coal Miners' Song". Once this tune begins to play at a banquet held at a hotel, a guide-interpreter has not only to encourage foreign tourists to dance but also to take the lead in dancing. Because the guide-interpreter business also contains a factor of entertainment, it is very important for him or her to have an entertainer's spirit.

This business is full of cares for sure, but it is very enjoyable because it takes you to various places and it gives you chances to meet various people from all over the world.

Whether tourists from abroad go home with good impressions about Japan depends on guide-interpreters' competence. That is the reason why a guide-interpreter is called a private diplomat.